Freelance Market Statistics & Trends [Updated for 2023]
Varun Omprakash
Content writer at Flexiple. Passionate about sales. Loves reading.
In this blog post, we try to decipher the present & future scenario of the global freelancing ecosystem by breaking down key freelance statistics and trends.
The Freelance Revolution in Numbers: Freelance Statistics
To appreciate the scale at which freelancing is currently present in the world, let's delve into some numbers that highlight the current trends in the world of freelancing.
1. Currently at 58 million and counting, freelancing is poised to become the U.S. majority workforce by 2027
Currently contributing over $1.4 trillion to the U.S. economy, the steady increase in the number of skilled individuals taking up freelancing every year has made freelancers the favorite to become the U.S. majority workforce within the next few years.
  Source: Upwork Press Release
2. Google's workforce has more freelancers than permanent employees
As of March 2019, Google's workforce comprised of 120,000 contractors/freelancers, more than the number of permanent employees on its payroll, which was around 102,000.
  Source: Bloomberg
3. Freelancer earnings statistics suggest that there will be more freelancers in the tech domain soon
At 78% y-o-y growth in revenue, the United States has the fastest rising freelance economy.
Freelancers have at their disposal specialized software that enables them to be more efficient and manage their tasks and work from start to end. [free software or freemium at affordable prices]
The highest paying freelance skills of today are direct response copywriting, ad management, SEO consulting, software development, lead generation and sales.
Freelancer earning potential for specialized roles is much higher than a general role - software developers can earn up to $1,000 USD/hr.
As a result of this, technology is one of the two top occupations for new freelancers. The other is finance/business operations.
Even in today's progressive freelancing world, discrimation towards women is not uncommon. Male freelancers make up to 4 times more money than women.
Source Forbes
4. Countries with lower domestic work opportunities are seeing a surge in freelance professionals
Due to the rise in adoption of remote teams, freelancing is providing a viable career path for skilled professionals in regions where domestic opportunities are low. Pakistan, Ukraine, Philippines, India, & Bangladesh rank in the Top 10 countries with the fastest-growing earnings for freelancers.
  Source: CNBC

5. Freelancers are proving to be game-changers for SMBs
Providing a cost-effective and flexible solution, freelancers are helping SMBs achieve their growth plans. Reports indicate that SMBs are happy with freelancers and are looking to increase their use of freelancers in the future.
Here are three key stats to corroborate this fact:
70% of SMBs in the U.S. have worked with freelancers at least once
81% of these companies plan to hire freelancers again
83% agree that freelancers have greatly helped their business
  Source: LinkedIn
6. Almost half of all businesses employ freelancers
48% of businesses hired freelancers in 2018, up from 43% in 2017. This is expected to increase steadily as the ease of hiring freelancers increases and company policies become more aligned to processes like remote working.
 Source: Inavero Report
7. Freelancing opportunities are rising with online freelancing platforms being the catalysts
71% of freelancers reported an increase in the amount of work they were able to attract online over the last several years – with online platforms providing a great medium for connecting freelancers to companies & vice-versa.

Source: Business2community
Major Global Tech Talent Platforms
The below list comprises the current tech talent platforms that allow you to hire freelance and full-time talent based on growth rate and market size capture.
Upwork
Turing.com
Freelancer.com
PeoplePerHour
Arc.Dev
Toptal
TaskRabbit
99Designs
WriterAccess
Gigster
Designhill
8. Freelancing market share is expected to increase further in the near future
The freelancing market is expected to grow steadily in the coming years.
By 2023, the global freelance market economy is likely to reach $455 bn USD.
In 2017, there were about 57.3 mn freelancers in the United States. This number is set to nearly double by the year 2028. Well over 90 mn freelancers would be present in the US alone.
Freelancers will also soon make up the majority of the US workforce. Around 51% of the working population will consist of freelancers by 2027.
9. The Covid-19 pandemic slowed down freelancing careers
The pandemic was tough on the freelancing industry too. In the US alone, about 28 percent of freelancers had to stop their freelancing activities due to the coronavirus pandemic. That's about 10% of the US labor force.
10. 12 out of the top 20 in-demand skills for freelancers are related to development
The top skills desired by companies looking to hire freelancers consist primarily of various technologies and IT-related skills. They include Blockchain, Amazon DynamoDB, React Native, Angular, Computer Vision, Go among many others.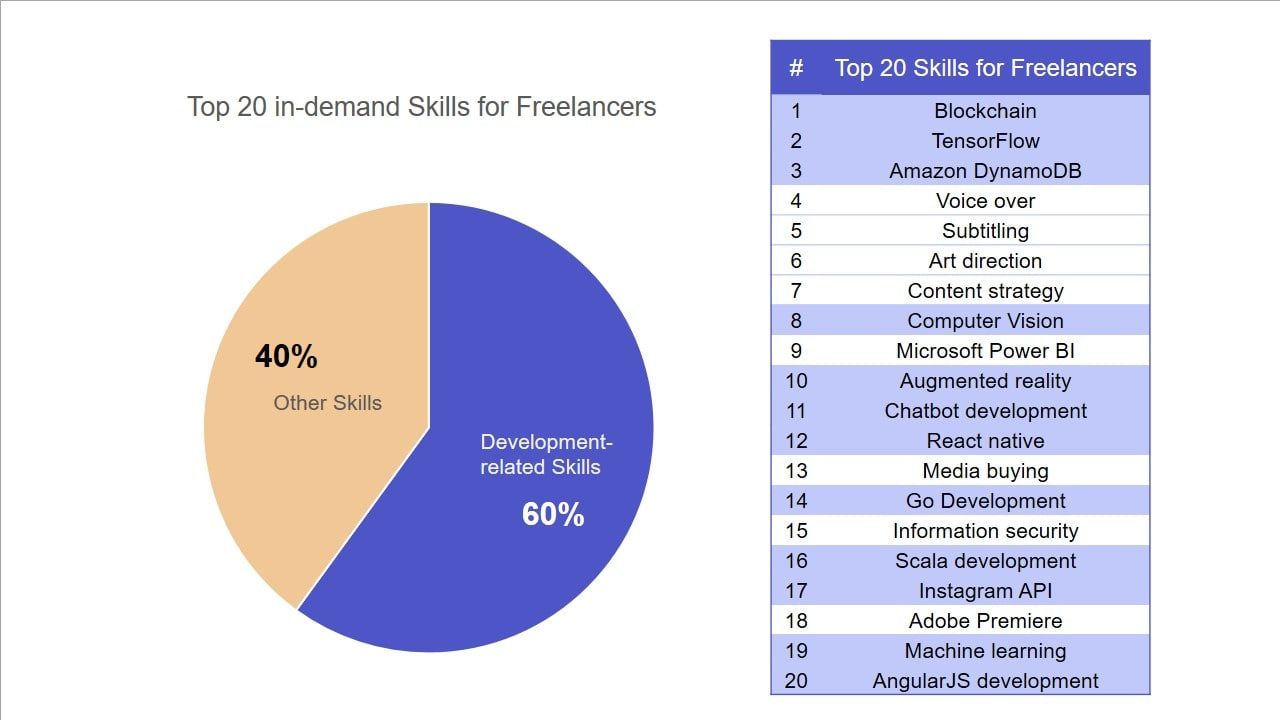 Source: Business Insider
At Flexiple, top tech startups & companies partner with us to work with tech talent. Join Flexiple's exclusive tech talent network, if you want to work:
On Handpicked projects from such top companies
From any location, full-remote
While always getting paid on time
Here's a short form, to kick-start the process: Talent form.