Leader of the Indian chatbot industry for over 5 years
Over the past 5 years, Haptik has led the progress in the Indian chatbot industry by focusing majorly on providing a great user experience. Its product portfolio consists of a variety of offerings including an enterprise chatbot as well as apps for publishers and consumers. With over 100 chatbots live, the firm is growing rapidly and is one of the highest-rated mobile applications in India.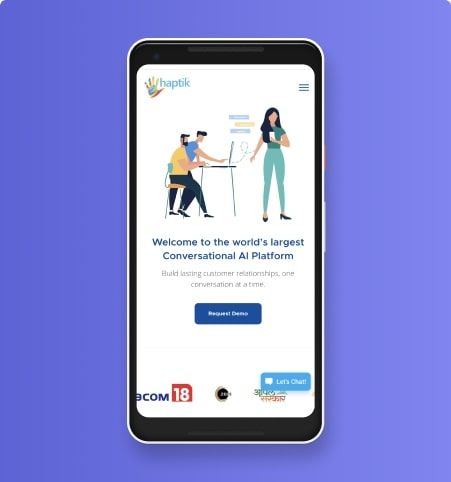 Search for great talent to build their customer-facing website
To continue on its path of success, Haptik realised the criticality of consistently adding top talent to the team. One of the many roles that Swapan Rajdev, Haptik's CTO, was looking to hire for was that of a frontend developer. However, the slow nature of the usual hiring process didn't align with the internal targets set by the team and they decided to evaluate other options to execute these projects.

To this end, Haptik tried outsourcing to companies and other freelance options but none worked out productively, due to lack of quality and dedicated engineers, instead just leading to increase in overhead costs.
Finding the perfect match with Flexiple's assistance
While Haptik continued to have such bad experiences, Suvansh reached out to Swapan to understand if Flexiple could be of help. Our commitment to finding great quality tech talent who are dedicated to the project and maintain a high standard of work ethics, immediately struck a chord with Swapan.

After a brief discussion with one of our Project Managers, we recommended a profile of a frontend developer perfectly suited to Haptik's requirements. Swapan couldn't believe the time and effort saved by partnering with Flexiple - for once they could spend lesser time sifting through tons of developer profiles and could instead get started with building products.
"A lot of the team members in Haptik did not even know he was a freelancer since his dedication to our projects was above and beyond. He was always available when needed and he has worked in really tight deadlines and delivered great quality of work."
Swapan Rajdev, CTO - Haptik

Quick onboarding and quality delivery of products
Swapan was initially, a little apprehensive about the hourly model that Flexiple works with considering lot of projects end up overshooting initial estimates. However, he realised that the model not only gave room for the required flexibility but also helped improve the internal processes by consistently tracking the time taken for the projects.

Further, the skill and dedication shown by Flexiple's talent, Rajesh, was also a pleasant surprise. Being always available and a total team player allowed the team to gel quickly and meet critical and tight deadlines comfortably.
2 high quality products later, a long-term partnership begins
By the end of the engagement, 2 high-quality software products were released in quick succession. Swapan was highly impressed by the seamless manner in which the entire process took place and has found in Flexiple a perfect partner for multiple future projects.
"We would love to keep working together on more projects as there is always a lot of work that needs to be done. This arrangement with Flexiple has helped us get work done in a timely manner and helped us go above and beyond."
Swapan Rajdev, CTO - Haptik