Upwork Reviews & Alternatives for Hiring Developers
In this blog, we take an in-depth look at the suitability of Upwork for hiring freelance developers and highlight some Upwork reviews.
If you're looking to save time and are only looking for Upwork reviews, consider jumping to these parts of this article:
Upwork for hiring freelance developers
Upwork to find jobs as a freelance developer
A summary of Upwork
Upwork: What is it, and how did it start?
Upwork is an online freelance marketplace that resulted from the merger of two freelance platforms, oDesk and eLance, in 2015. It is currently one of the top 2 largest freelance marketplaces based on the number of registered freelancers. Upwork is also the largest freelance platform based on the total dollars spent by clients.
When it was first emerging in popularity, Upwork was described as the 'eBay for freelancers', due to its business model resembling the highly-popular online marketplace. Even today, that would be an apt description, since it is primarily a platform that connects buyers and sellers online via listings.
With its enormous presence, Upwork's talent pool consists of a wide range of freelancers located in almost every nook and corner of the world. It is now a publicly-traded company, having IPO'ed in October 2018. However, it is interesting to note that it has still not achieved profitability.
Upwork's primary offering is to help companies find and hire self-employed freelance professionals across 50+ verticals. On its website, you'll find everything from freelance developers and designers, to management consultants, financial consultants, copywriters, and editors.
How does Upwork work?
Upwork relies on a bidding model to match freelancers with relevant projects posted by clients on its site. The process has been broken step-wise and listed below:
Companies or individuals looking to hire freelancers first have to list their work/ job and relevant details on the site.
Then, freelancers registered on Upwork can view the project and send their proposals to the clients. In essence, they 'bid' their lowest rate for completing the client's work.
Clients can then review and evaluate the proposals (i.e., bids) that they've receive from the various freelancers. Every freelancer has an 'Upwork profile', where information such as their experience, reviews from prior clients, etc. is visible.
Once the client is done reviewing the bids, they can choose to shortlist and evaluate developers by interviewing them, giving them tests/ tasks, etc. This has to be done entirely by the client, as Upwork doesn't screen the freelancers on its platform manually.
Once the evaluation is done, the client can select the right freelancer for the job and start working with them right away.
During the engagement, Upwork provides additional features through its apps, like chat/ video call, file sharing, and task tracking.
Upwork provides two models for payment: fixed-price or based on hourly rates. Invoicing and payments are made based on the client's authorisation of the work done by the freelancer.
Upwork's Business Model
Upwork has always relied on increasing volume, be it in freelancers and clients. In fact, it has a very high number of employers on its platform - more than any other competing platform. As a result, more freelancers are motivated to sign up on the platform.
This once again gets more clients to post their jobs because of the large base of freelancers. Overall, Upwork has successfully leveraged a network effect to grow.
It makes money by taking a cut of a freelancer's earnings: 20% for each new client, then 10%, or 5% on future freelance projects with the same client. In addition, Upwork also charges payment processing fees and service charges from the clients for each project.
Upwork Reviews: Positive & Negative
Pros
A large pool of freelance developers:
As stated previously, Upwork has one of the largest pool of freelancers on its platform, with a reported 2million+ accounts created.
Find talent based on budget:
With such a vast user base, it is natural that you'll be able to find freelancers to fit almost every budget possible. Rates charged by freelancers on Upwork can range from as less as $7 -$8/hr to over $200/hr.
Hire talent for project segments rather than an entire project:
One of the benefits of hiring from Upwork is that you can find mediocre developers pretty quickly. So, if you get stuck on a small programming task (or) want to expedite a small part of your project, you can hire a generic programmer to do so without much friction.
Cons
No serious vetting process:
Upwork doesn't have a stringent screening process. This makes the entry into the platform relatively easy for any person, irrespective of the quality of skills. However, for clients, this means they get bombarded with a lot of poor proposals each time they post a job.
Huge time investment required to find quality talent:
Since there's no screening process, evaluating the quality of talent is entirely left to the client, which can get daunting very fast.
Below par success rate of projects:
For software development projects, there needs to be a clear understanding of the freelance developer's skill set and work experience to assess their fit for the job. Without this, clients usually end up making a bad hire, leading to low project success rates.
Poor customer support:
Upwork's support has been criticised regularly on several platforms listing Upwork reviews. Several customers have complained about their slow response time, and poor attempt to resolve concerns. Moreover, the moderators of their official community forum have been seen bullying freelancers posting complaints.
Review of Upwork's Market Performance
As shared earlier, Upwork is a publicly-listed company, and it has been listed on NASDAQ since its IPO in late 2018. However, its performance in the market has been quite poor.
While a bullish sentiment does exist on its long-term outlook, Upwork has done little to justify those expectations. In fact, its share price was on a downward slope till the Covid-19 pandemic.
Since then, the positive outlook on the freelance market has helped buoy its stock price. This is mainly due to the accelerated shift to remote working and freelancing - companies are increasingly looking towards moving to a more flexible workforce by hiring freelancers and hence cutting costs.
Another key point to note is that Upwork has veered away when it comes to disclosing its client retention numbers. Instead of focusing on client retention (or) churn, Upwork brings more attention to its 'client spend retention', which is effectively, the revenue retention rate. However, this doesn't paint a clear enough picture, as Upwork doesn't correspondingly publish customer acquisition costs.
This has raised some concerns, as a relatively high churn rate combined with increasing 'Marketing & Sales expense', as Upwork terms it, doesn't look too promising.
All this seems to be indicative of a simple explanation: customers likely tend to use Upwork only once, and not return again. There is reasonable evidence that seems to corroborate this - Upwork reviews on reputed third-party review websites has more than a fair share of customers calling out its poor service.
Hiring freelance developers on Upwork
Process breakdown: How to hire developers on Upwork?
While we have already touched upon this earlier, here's a quick summary on what you need to do to hire freelance developers on Upwork:
Sign up on the site
Post a free job listing
Receive proposals from various freelance developers
Compare bids, reviews, and prior work of the developers on their profile section
Evaluate shortlisted developers on your own
Select and hire the right fit
Start your work by paying a deposit as escrow
How much does Upwork cost?
There is no set range of the hiring cost when it comes to Upwork. Due to its immense pool of freelancers, you will be able to find developers from as low as $7 -$8/hr to over $200/hr. If you pay via Upwork's platform, you have to pay their payment facilitation/ service charges.
Upwork Reviews by clients from 3rd-party review sites
Here, we've outlined some good and bad Upwork reviews by clients, published on two of the most-reputed review sites: Trustpilot and G2crowd.
It's important to note that these users were invited by Upwork via Trustpilot's internal system to give reviews on Trustpilot, which makes these Upwork reviews 100% genuine.
Client Upwork Reviews from Trustpilot
In the below Upwork review, the user has vouched for Upwork's guarantee of security. Being such a huge company with a renowned brand name, Upwork does seem to take the security of its users very seriously.
However, this user seems to have had an unpleasant experience using the platform while hiring freelancers. By accusing Upwork of protecting their freelancers' profiles by hiding negative feedback, this user raises a pertinent question of the lack of transparency in such platforms.
Client Upwork Reviews from G2 Crowd
Here, in this Upwork review, a user has highlighted Upwork's vast source of talent, but has also drawn attention to the fact that it can be hard to find the 'right fit' when you're looking for a more personal approach. However, the user asserts that if you have clear expectations and a robust interview process, it can be a place to find great talent.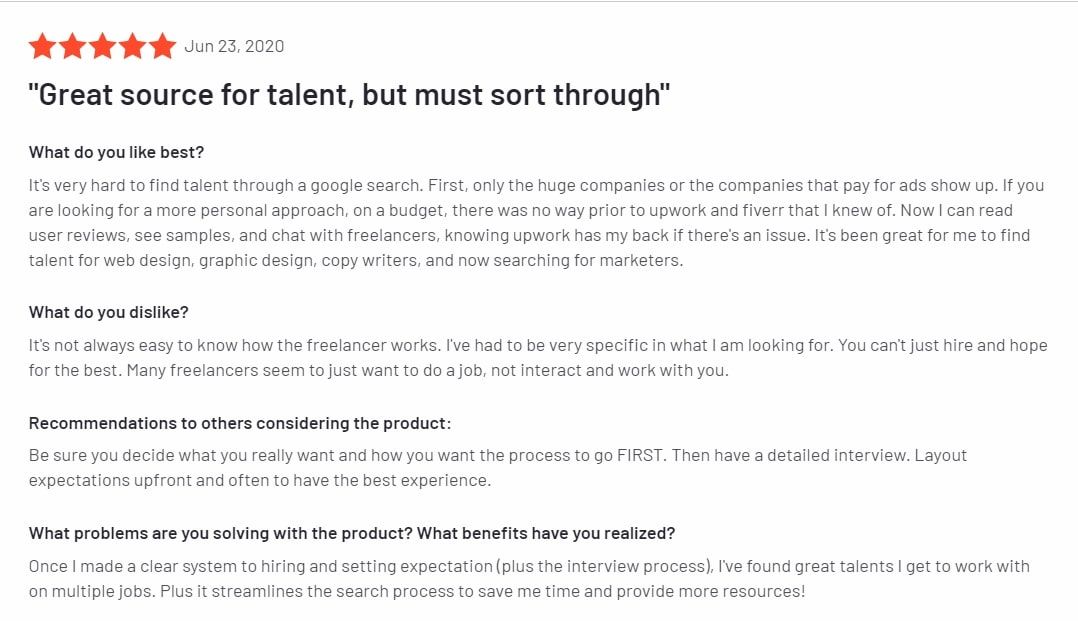 On the other hand, this is one among the many users who has complained about the ease by which a client can get scammed on Upwork by non-vetted freelancers:
Is Upwork the right fit for you?
Depending upon your needs, Upwork can be a good platform that provides a lot of options for hiring freelance developers. But it comes at a cost. Minimal screening of the freelancers makes this a relatively high-risk ordeal.
Hence, for small projects and one-off coding tasks that have minimal risk, Upwork is worth considering, as shown in the above Upwork reviews.
Viable alternatives to Upwork for clients
If you're looking for a freelance platform with vetted developers and personalised hiring solutions, you can consider Upwork alternatives like:
Flexiple
Toptal
Arc Dev
If you want a 'pure' freelance marketplace similar to Upwork that offers a wide selection of freelance talent at low rates and no prior screening, you can take a look at these Upwork alternatives:
Fiverr
Freelancer
Working as a freelancer on Upwork
Process breakdown: How to find freelance projects on Upwork?
Here's what you need to do if you want to hire freelance developers on Upwork:
Sign up on the website
Complete your profile by adding details like your skill set, years of experience, projects that you've worked on
Upwork will scan through your profile and decide whether (or not) you're profile is good enough
If your profile gets approved, Upwork will highlight ideal jobs for you. You can also search for project, and respond to client invitations
Bid on projects after reviewing them (keep in mind that you have to pay a fee upfront to bid for each project)
Wait to hear from the client
If you're selected by the client, you can start working on the project
You get paid once the client approves your work
How much can you earn on Upwork?
This is a hotly debated topic among Upwork's freelancers. Once you set your rate, it is unlikely that you'll be able to stick to that rate in the long run. Due to the high volatility of Upwork's bidding system, you will be competing with hundreds of freelancers who have also bid on that project. So it is very likely that you will have to reduce your rate to be competitive and land projects.
Also, Upwork takes a cut out of your earnings - 20% (first $500) with each client, followed by 10% (until $10000) and 5% (all earnings above $10000).
Due to its very wide user base, it is hard to predict how much a freelance developer can earn from Upwork. Some freelancers struggle to break-even on the money spent bidding on various projects, while others report earnings of over $60,000 per year through Upwork.
Upwork Reviews by freelancers from 3rd-party review sites
Here, we've outlined some good and bad Upwork reviews by freelancers, published on two of the most reputable review sites: Trustpilot and G2crowd.
Again, it's important to note that these reviews are genuine, and given by users who were invited to give a review by Upwork.
Freelancer Upwork Reviews from Trustpilot
It is of no doubt that thousands of self-employed freelancers have been able to make a living and build their careers doing freelance work by connecting with clients through Upwork.
Here's what one such freelancer has opined about Upwork's benefits, but also the numerous drawbacks, based on their experience on the platform.
In contrast, this freelancer has highlighted where Upwork lacks the most: customer service and its lack of support under less-than-ideal conditions.
Freelancer Upwork Reviews from G2 Crowd
One freelancer appreciates the payment protection policy of Upwork, and also recommends fellow freelancers to bid high on projects.
In a particularly strong-worded critique, this freelancer underlines Upwork's poor transparency and an apparent policy of silencing/ censoring criticism.
Is Upwork the right fit for you?
Upwork provides a relatively easy entry barrier for individuals looking to start their freelancing careers. Its guarantee of payments and intuitive UI makes it easy to sign up and find clients.
However, unfortunately, Upwork doesn't make a strong enough case to be the first choice for experienced freelancers. Negatives like paying money upfront to bid on projects, poor emphasis on matching a freelancer's actual skillset with a suitable project, and poor customer service make it a less ideal choice.
So, if you're new to freelancing and are looking to start your career, Upwork can be a good place to start gaining insights and get a feel for the market. Maybe, you can even get your first client on the platform.
Viable alternatives to Upwork for freelancers
If you're new to freelancing, you can consider other similar platforms to Upwork, like:
Fiverr
Freelancer
If you're an experienced developer, these vetted freelance networks might be a better fit:
Toptal
Flexiple
Arc Dev
Gigster
Gun io
TL; DR: A Summary of Upwork's review
Upwork is a publicly-listed company since its IPO in 2018. It is currently one of the largest freelance marketplaces, and connects clients with freelance talent in over 50 verticals - development, design, writing, consulting, etc.
Pros of Upwork
A large pool of freelance developers
Find talent based on budget
Hire talent for project segments rather than an entire project
Cons of Upwork
No serious vetting process
Huge time investment required to find quality talent
Poor success rate of projects
Poor customer support
Since its IPO, Upwork hasn't performed very well, maybe due to concerns about its poor customer service and seemingly high churn rate, along with soaring customer acquisition costs.
There is no in-depth pre-screening of freelancers at Upwork. Hence, it is better suited for small freelance projects and one-off coding tasks that are risk-averse. For such projects, clients can find freelancers perfectly well on Upwork.
However, for long-term and complex projects that require a more elaborate effort, there are better Upwork alternatives out there like Flexiple and Toptal.
Check out remote developer jobs
Based on Your Skills
Based on Your Career Trajectory