How Peblio's globally distributed team found a perfect new member
Esther, Mathura and Regina were batchmates at the prestigious New York University. The trio had an inclination towards creating an impact in the education space and found their calling with Peblio - an instructional tool & lesson sharing platform which makes teaching Computer Science easier.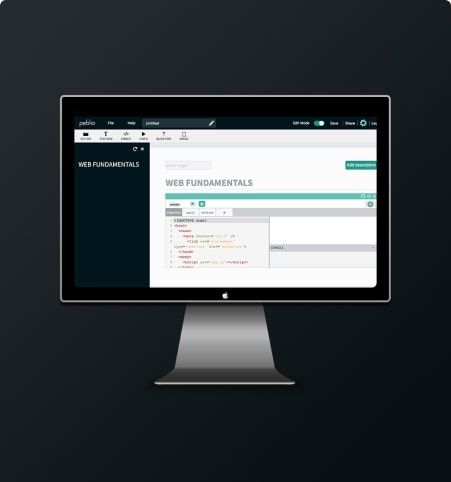 "Within a year, they launched a beta version and had 10 classrooms in New York City use the tool as part of their daily classes"
Making a mark & charting the next growth phase
To keep the show running, the three-member team took up full-time jobs while dedicating considerable effort to building the product. Within a year, they launched a beta version and had 10 classrooms in New York City use the tool as part of their daily classes. By Jun'18, the team already had a long-term plan in place to build the next set of features. This when they realised the need to onboard another fully committed developer to accelerate product development.
Searching for the perfect new team member days
The three founders were already working remotely and hence, their search wasn't bound by any region or timezone. Through a common friend, Mathura reached out to Hrishikesh (Flexiple) looking to hire a full stack Javascript developer. The flexibility offered in terms of hiring a full-time freelancer on an hourly basis - pay only for the actual hours put in - was exactly what the team was looking for at this stage. Mathura & team were clear in terms of hiring someone who not only has great technical and communication skills but also will be highly motivated and committed towards the product.
"Komal is a self-starter, has great attention to detail and is extremely committed towards the product. I must say she is the prime reason the show is going on!"
Mathura MG, Lead Developer - Peblio

Flexiple connects Peblio with top Javascript developers in 3 days
Hrishikesh got back with 4 recommendations in just 3 days. The team reviewed the profiles and went ahead to schedule a 2-stage process with each of them. They found a great fit in Komal given her extensive work experience and ability to work remotely & in different time zones. Additionally, what stood out was her attitude to ask pertinent questions in the introductory discussion and the pair programming round.
Komal's self-starter attitude helps battle timezone issues and eases remote working 
With the three founders all located in different time zones and Komal in a fourth, execution wasn't going to be straightforward. To add to that, Peblio's founding team was working part-time on the product. Mathura was concerned if this would do justice to a full-time new hire. However, Komal's self-starter attitude and acute understanding of working remotely & in different time zones made this an easy win.
Attention to detail and proactive communication
Standups at Peblio happen every alternate day and Komal is able to work independently on open-ended problems coming up with a concrete solution in the couple of days. Mathura admires her attention to detail and her ability to delve deeper into problems so much so that at times she has to ask Komal to mark things for consideration later. However, what really stands out for Komal is her ability to communicate proactively and constantly which is a must in a remote setting.
Commitment towards building a world-class product
Mathura recollects one particular instance where Komal spent quite some time in resolving a backend issue primarily because she didn't have the context of the complete app. Immediately after, Komal suggested she set up the entire application locally to spend time in understanding parts on which she wasn't working. In another case, Komal insisted on having a separate testing machine apart from the staging server since that aligned better with the team's development processes. Mathura says all of this goes on to exhibit Komal's ability to own not only the features she is working on but also the entire product.
"Overall Flexiple brought in high-level of transparency with extremely quick turnarounds in the hiring process at a significantly lower cost than any alternate options we had considered."
- Mathura MG, Lead Developer - Peblio
Ready for launch & growth phase
On course to launching the community site at the end of February, Peblio is gearing up for the next phase with Komal and looking to build onto the currently active 770 users. Mathura only has great things to say about Komal and Flexiple, "Working with Flexiple has been great. We had our doubts initially and a lot of those were removed because of our conversations with Hrishikesh where we were able to openly talk about our problems. We have found partners who can provide us with great tech talent for our growth and success. As for Komal, I must say she is the prime reason the show is going on."